Built for Cross Country Skiing
Proskida's cross country ski performance system includes an instrumented ski pole grip, and a mobile app. Analyze your data using Protern.io.
Move Proskida Grips between poles
Proskida's proprietary coupler allows grips to be easily moved between poles without tools.
Poles require no modifications
Proskida's coupler mounts like a typical grip and the grips use standard adjustable straps.
Lightweight design
The Proskida Grip weighs only 50 grams more than a standard high-end grip.
Collect data in real time
The Proskida Grip app collects skier's force, efficiency and other cross country ski specific metrics such as cycle rate in real time via Bluetooth.
Manage your grips
Turn on and off sensors, check battery levels, update your grips - the Proskida Grip app lets you fully control and manage your grips.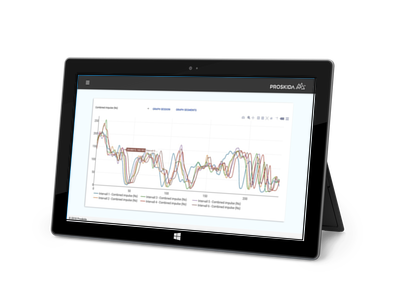 Instant analysis
With Protern.io, view data such as impulse, peak force, cycle rate instantly after a training session. You can compare over time or segments within the session itself.
Coach and athlete access
Proskida makes it easy for coaches and athletes to work together and share data.
Import and export data
Import your smartwatch data, such as heart rate. This is your data, so you can export all your Proskida information.